What are termites?
Termites are destructive, wood-eating pests that can be found living across most of the United States, including the North Dallas area of Texas. Eastern subterranean termites are the most common termite species found living in our area. These termites nest underground and feed on the cellulose found in plants, wood, and other organic materials.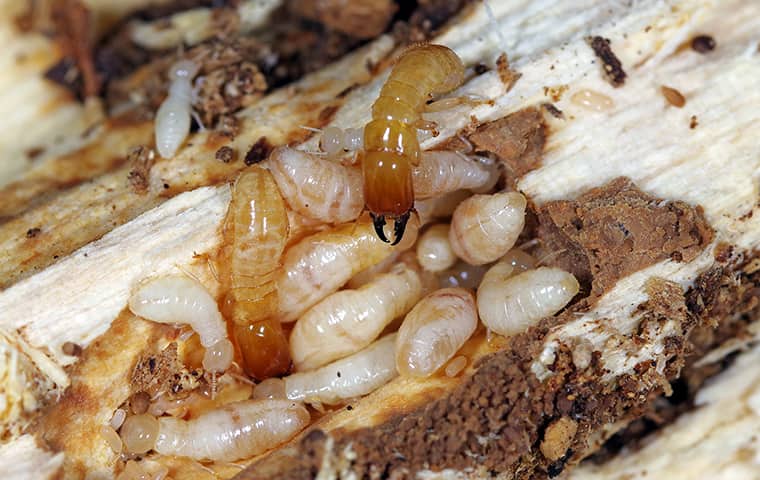 In nature, termites are beneficial as they help break down decaying plants and trees and then release those nutrients back into the soil. However, when living inside a home or other building, they have the potential to cause significant structural damage.

What a termite looks like depends on what caste they are a part of and what job they have within the colony.
Worker termites are wingless, soft-bodied, and look similar in size and shape to a white or cream-colored ant. The workers make up the majority of the termite colony and are tasked with gathering food for the entire colony.

Soldier termites look similar to workers, except their heads are large, elongated, and more yellowish in color. Soldiers have large, pincher-like mouthparts (mandibles) that are darker in color than the rest of their head. They use these mouthparts to defend themselves and their colony.

Swarmers are the reproductive members of the colony and are responsible for creating new colonies. They have two pairs of wings that are equal in length and about twice the size of their body. The body of the reproductive termite is reddish-brown in color. Size-wise, these swarmers are the largest member of the colony, aside from the queen, growing to about 1/2 an inch in length.
Are termites dangerous?
Though termites present no real threat to humans, they are responsible for causing billions of dollars' worth of damage to properties across the United States each year and therefore are considered dangerous pests. After invading a home, termites will begin to feed on its structural wood and continue to do so day and night until they are forced out through professional pest control services. In that time, they can cause quite extensive damages. As they tunnel inside the wood they have invaded and feed on it, they can eventually weaken the structural integrity of your home. Termite damage can be quite expensive to repair and is not typically covered by homeowners' insurance.
Why do I have a termite problem?
There are several reasons that termites may be attracted to properties, including:
The presence of wood that is decaying, has been damaged by water, or that is in direct contact with soil on the property.

An ample supply of food sources such as fallen trees, tree stumps, decaying firewood, and piles of leaves or grass.

Once inside, termites head straight for any structural wood that has been damaged by water. After establishing their colony, they will move on to sound wood, and may even begin feeding on bricks, insulation, drywall, furniture, and carpeting.
What are the signs of an eastern subterranean termite infestation?
If termites are living in your home or on your property, you may start to notice some of the following signs:
Mud tubes running along the ground toward your home, running up your home's foundation, or running along your basement walls.

Piles of discarded termite wings on your window sills, floors, decks, walkways, or porches.

Blistering or splintering structural wood inside your home.

Wood in your home that is thin at the surface, sounds hollow, or is easily punctured.

Floors that feel spongy as you walk across them.

Witnessing a termite swarm; termite swarms occur when the reproductive members of a mature termite colony emerge from the nest to mate and establish new colonies.
How do I get rid of termites?
Termite infestations are extremely difficult to eliminate. The removal of termites from a home or property should only be handled by experienced professionals. The pest experts here at DANCAN can provide the quality termite control services needed to accurately identify the infestation and eliminate the nesting sites on your property as well as help prevent future problems with these wood-destroying pests.

Our professionals will utilize eco-friendly and modern pest control methods and products to eliminate the termites located in or around your North Dallas-area home. For more information or to ask questions about installing termite monitoring stations on your property to prevent a future termite infestation, contact us!
How can I prevent future problems with termites?
Preventing termites from nesting on your property is a difficult task, but there are several things you can do to try to deter them:
Reduce moisture levels inside your home by using de-humidifiers and properly ventilating crawl spaces.

Makes sure that your gutters and outdoor faucets are in proper working order and aren't allowing water to pool around your home.

Termites are attracted to water-damaged wood, so remove any structural wood from your home that has been damaged by water and replace it with sound wood.

Limit wood-to-soil contact on your property to prevent termites from gaining easy access to your home, garage, or other wooden structures located on your property.

Remove rotting logs, piles of leaves, and other organic debris from your property that could attract termites.

Seal any cracks or crevices found in your home's foundation to help prevent termites from entering your home while foraging for food.
Get Your Free Estimate Today!
Complete the form below to schedule your no obligation inspection.
Recent Blog Articles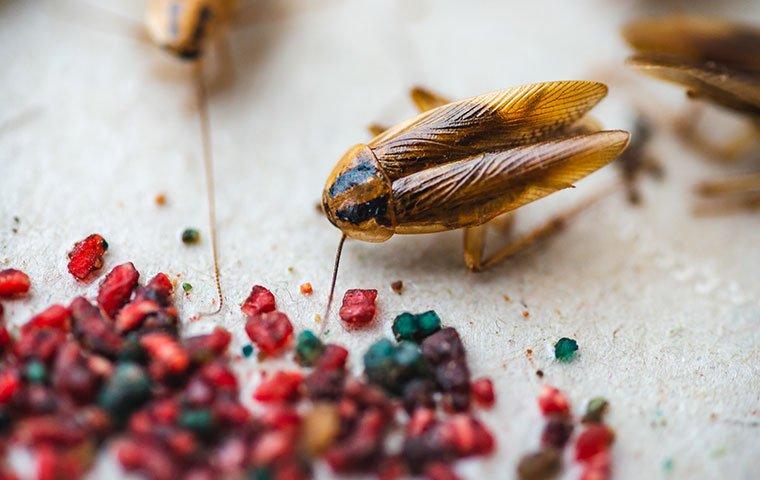 July 15, 2021
It isn't easy to convince German cockroaches to live somewhere else—though it is not impossible.... Read More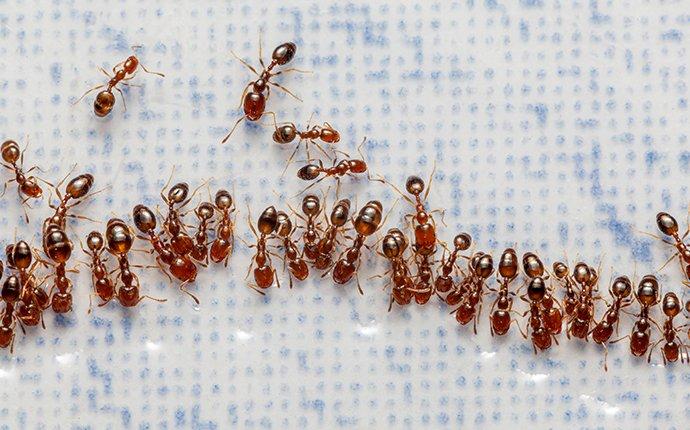 June 15, 2021
Several of the aforementioned concerns apply to ants, believe it or not. They can contaminate food and surfaces with the microbes they have on their skin. ... Read More